As an Amazon Associate, we earn from qualifying purchases.
Short-range communication once dominated the motorcycle communication system market as they have proven to be ultimately reliable and effective though not as safe as the more modern Bluetooth motorcycle intercoms today.
Bluetooth has gone way far from just being a technology that people use in order to connect their smartphones to send pictures or data. It has invaded and has actually won over the communication systems especially with regards to the motorcycle communication sector.
More than just paving way for motorcycle riders to talk to each other easily and clearly, it also makes listening to music, weather forecasts, news, and the likes possible. All of these can be done without having to remove the helmet or to stop to check your gadget.
Top 8 Motorcycle Intercoms For Your Shortlist
Based on everything that we have indicated above, we have narrowed down the best Bluetooth motorcycle systems to only eight. Hope this helps you decide on which one to get.
This is probably the Bluetooth intercom with the smallest footprint yet it does not sacrifice riding performance. In fact, it has quite a long range capability of up to 900 meters or 980 yards in an open terrain.
With this, one can easily make or take calls hands free from your mobile phone as long as the Bluetooth connection is on and paired up, listen to music, and even receive navigation instructions from your GPS device.
The Sena SMH10R allows four-way conference intercom and even allows an intercom participant during a phone call. In addition, this has voice prompts, sufficient sound level with integrated audio booster, and allows Bluetooth audio devices, music playback control, and Bluetooth GPS navigation.
Customers who have already bought this say that the calls were crisp and clear and the music is excellent like they have their own sound system in the comfort of their helmets. The streamline design is one factor that you will love as it works nicely with the helmet's contour shape.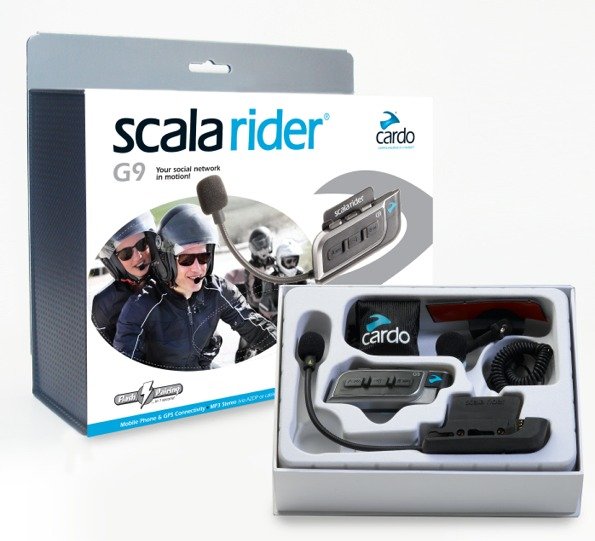 Tagged as the most sociable pair of Bluetooth headsets today, the Cardo Scala Rider G9 Powerset indeed is with its ability to connect and pair up with up to eight different riders within a 1 mile or 1.6 km range.
Calling your paired up riders is also easy with a voice command where you can simply say the name of the person you need to talk to. The headset then does its job and before you know it, you are already conversing clearly in full duplex mode.
If you are riding in small groups, it should be easier as the G9 Powerset allows intercom conference calls between four Scala riders and this is also in full duplex mode. If you are worried about the hassles of pairing or you forgot to pair beforehand, then you would be grateful for the Click-to-Link patented technology that this Bluetooth headset offers. It basically allows anyone using this headset to spontaneously connect to other Scala riders even without pairing.
With an outstandingly long talk time of 13 hours and standby time of 7 days, charging time remains quick at only 3 hours. Customers who have previously bought this G9 Powerset are truly amazed with its superior performance. It is more costly than the others that might have been mentioned here but you know it is very well worth the investment.
Introducing Super Group Intercom and Multi-Hop Technology, the UCLEAR HBC200 features Boomless ABF Technology which is specifically designed for group communications through full-duplex.
The Multi-Hop technology is the one responsible for the superior sound quality as it is the same technology used in military tactical communications. In addition, this also paves way for a stable connection and prevents interferences which are common among the available Bluetooth motorcycle headsets in the market today.
An even greater feature of the UCLEAR HBC200 is the capability for multiple connections such as syncing phones, iPods, GPS navigation devices, and other intercoms. This also features a boomless microphone, Hi-Fi stereo audio, voice and noise isolation, and auto loudness adjustments.
Customers who already have this UCLEAR intercom all say that this gives true bang for their bucks. It is easy to install, durable, and works exactly as advertised. Noise cancellation is so great that the person on the other line will never know that you are riding on your motorcycle.
This works as bike-to-bike intercom for up to four riders within a range of approximately 1,100 yards in a full-duplex mode which makes the calls clear and free of noise. With an A2DP technology, riders can now share music to their passengers. This also comes with detachable speakers so that riders can use their own speakers for as long as it fits the 3.5mm jack.
With large and intuitive buttons, the Cardo Scala Rider Q3 is easy to use. The interchangeable boom and corded microphones fit all types of helmets and the Click-to-Link feature allows spontaneous intercom, thus, eliminating the need for pairing beforehand.
This also comes with a built-in FM radio and is IP67 standard which means it is certified waterproof and dustproof. Battery can last for up to 8 hours talk time or 1 week standby. Customers who bought this are happy with its functionality. It is a very solid gadget that every motorcycle rider would want to have.
Given that this is the latest Bluetooth headset for motorcycle riders from Sena, it is not surprising that it features an even better range capacity of 1.5 miles. It also comes with an advanced 4.0 Bluetooth and a built-in FM radio tuner. Conversations are in full duplex while riders can also make or take calls hands free or listen to music or GPS navigation instructions.
The latest 4.0 Bluetooth technology not just increases the performance of the Sena 20S but the reliability as well and makes high definition audio quality possible. This also features Audio Multitasking which basically accords for a smooth blend of incoming and outgoing audio. This is said to create a mixed audio experience that nevertheless correlates to a pleasing experience.
Featuring an industry first dual Bluetooth module communication system, the Sena 20S is a versatile bike-to-bike conference intercom. Customers who bought this say that there is a learning curve but if you want to get around it better and quicker, the quick start guide that comes with the package is very helpful.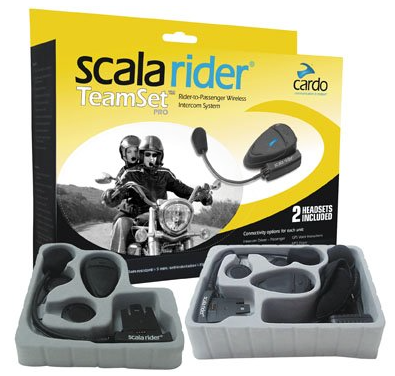 Providing what a motorcycle rider needs from a Bluetooth communications system, the Cardo Scala Rider Teamset Pro provides the real intercom solution. It not only offers clear and easy wireless hands free communication but it also opens up a whole new world of entertainment on the go.
Without sacrificing comfort or safety, this Bluetooth communication system can also receive GPS navigation instructions from your GPS device (for as long as it has Bluetooth connectivity) and stream music from your music player. In addition, this advanced intercom system can independently initiate, accept, or even reject calls all through the voice control and without ever having to lift a single finger.
The Cardo Scala Rider Teamset Pro fits all full faced and 3/4 helmets and installation is done within minutes. Customers who have previously bought the Teamset Pro state that it positively changes the dynamics of riding motorcycles and they would not have it any other way than Cardo Scala.
This is yet another brand that has slowly entered the Bluetooth motorcycle communication system scene but is quickly gaining their loyal followers. It is very affordable yet efficiency is not at all compromised.
With the ability to connect up to 6 riders, the Buyee BT 1000M motorcycle helmet Bluetooth intercom headset is the upgraded model that now features a new mainboard. It is said to have enhanced the power saving ability yet boosts the signal reception. This new model now also supports Hi-Fi sound which accounts for a better sound quality compared to the previous ones.
Being classified as a long range intercom, this connects with other Bluetooth headsets within a range of 1000 meters. It has 7 hours talk time and fully weather protected. It can be used not just for motorcycle riding but for skiing and other adventurous sports as well.
Customers who have tried this are impressed with its quality, efficiency, and overall performance especially while on the road. It fits all helmets and absolutely easy to install and use.
Featuring Bluetooth v2.1, the Shark SHKLXMBT688IL is a long-range Bluetooth motorcycle communication system that is specifically designed for motorcycle riders for safe and convenient riding. This basically makes hands free calls possible along with listening to music and even GPS instructions.
Allowing intercom conversations for up to 5 other riders in full duplex mode, this also features the DSP or advanced digital processing technology which makes great sound quality possible at any given time whether for incoming or outgoing calls. This also features a Jog Dial button which every motorcycle prefers because of its ease of use.
With a button that is made from both plastic and rubber, this Bluetooth headset is now noticeably more stable and feels more durable. Customers who have already bought this Shark intercom state that everything about this intercom system is perfect. From the price to ease of use and up to efficiency, Shark continues to prove how great their devices are.
Bluetooth motorcycle communications systems are more important now than ever. They are profoundly efficient and encourage safety of all motorcycle riders at all times. These devices basically solve all the previous problems or motorcycle riders in the olden days on how to communicate safely with each other and how they have to stop and look at their map for accurate directions.
Back then, riders would have to be totally excommunicated from everything else and everyone while on the road. Today, you just have to push that button or say a voice prompt and you can stay connected wherever you may be.
Your Options for Communicating on the Road
Basically, there are two communication system options for motorcycle riders:
Motorcycle Helmets with Pre-Installed Bluetooth – These are custom designed, hence, there would be no complications during installation. These are known to be generally convenient especially for first-time users. However, they are more expensive.
Motorcycle Helmet-Capable Bluetooth Devices – These headsets are usually conveniently clipped or installed onto the side of the helmet. This is known to be more practical as there is no need to buy a new helmet.
Now that you know your basic Bluetooth motorcycle communication choices, let us proceed to the things that you would have to put into great consideration before finally settling down with your choice.
Intercom
Determine your needs. Do you want a Bluetooth motorcycle intercom for you and your passenger or do you want something that will let you talk hands-free to your co-riders as well?
If you only need an intercom, then that should be easy. It is the simplest Bluetooth motorcycle communication system yet probably the most intuitive. It most commonly comes with a button and a dial. A great example of a trusty intercom would be the Sena SMH5.
Range
Think of where you will mostly use the Bluetooth motorcycle headset and keep in mind that certain factors such as buildings, hills, and wooded areas may affect the signal range. The minimum acceptable range if you are going to travel with a couple of bikes is 500 yards. But if you plan to ride larger groups with higher chances of being spread out, you need to double the yard capability.
Great examples of a Bluetooth headset for motorcycles with a great range that reaches approximately 1000 meters or half a mile are Sena SMH10 and Scala Rider Q3.
Multiple Riders
If you frequently ride in a group, choose the Bluetooth headset that allows as much as four riders to connect. This works like a conference call where you all can hear and speak at the same time. The Sena SMH10, Sena SMH6, and Scala Rider G9 all have this multiple rider capability.
Sound Quality
Always choose the Bluetooth headset that has a volume and offers noise reduction. You will be on the road and hence, terrible road and wind noise is expected which is why you have to make sure that sound quality is excellent or else everything might get lost in translation with all the sound disturbances.
Waterproof
Since you will be on the road most of the time and will be exposed to all sorts of environmental factors, you must make sure that the Bluetooth motorcycle headset you are considering is waterproof and even weatherproof if at all possible.
Battery Life
Sena is known to have the longest battery life among the various Bluetooth motorcycle intercoms today.