While Bluetooth intercom headsets are starting to become a necessity for motorists lately, not everyone is prepared enough for these kinds of technical portability updates, especially when budget is one of the main concerns. This is where the Interphone BT 1000M motorcycle headset from Buyee comes in.
Since it was released from the Chinese audio and accessory supply company, the Buyee BT 1000M has received good reviews from buyers online for being affordable for motorists who wanted to get a headset they needed that costs inexpensive yet still can provide the best audio quality.
Specifications
Looking at the technical aspects of this Buyee Interphone headset, it's not as high end as some of the others but it sure does its job very well. Below are some of the specifications of this Bluetooth intercom headset:
Dual pack
High Fidelity (hi-fi) sound support for speakers and headphones
Multi-com Bluetooth interphone system that allows up to six riders to connect to each other
Long range intercom up to 1,000 meters
Bluetooth interphone kits for helmet motorcycle, snow mobile, ski, ATV, etc.
Real two-way wireless communication system between six riders with speed up to 120 kilometers per hour
Up to seven hours talk time
Wind noise DSP cancellation
Audio navigation via GPS
Line-in audio interface via Bluetooth
Full weather protection guaranteed
Works with any Bluetooth-equipped (A2DP enabled) mobile phone, GPS or mp3 stereo music player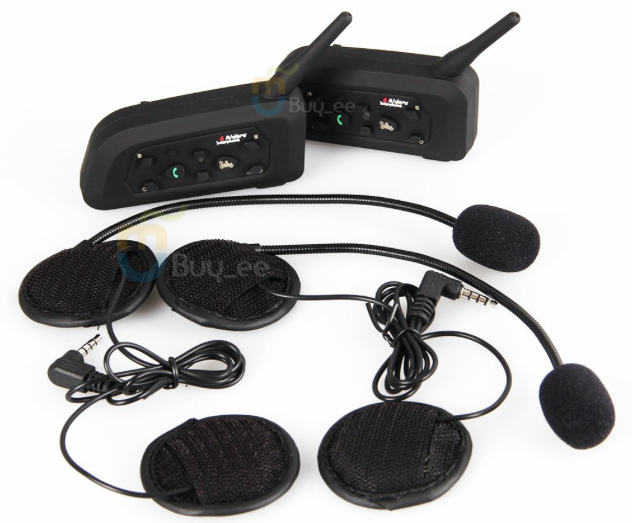 Features
Technically speaking, the Buyee Interphone BT 1000M does not have much to offer but that doesn't mean it can't do its job. It's a reliable Bluetooth intercom headset when you are on a tight budget with some added bonus, of course.
It's a hands-free device that provides audio navigation via GPS, functions as a headset for both your mobile and your music, and of course, connects you to others in your riding group.
Six-Headset Connectivity For Group Trips
This feature, unlike some of the high-end headsets, is a very good help for motorists who would go on trips in groups, improving coordination and teamwork while on the road.
This is a very good point since this headset indeed promised a connectivity of up to six headsets, so you will not need to worry talking to your fellow road buddies while on the road. It is also very helpful when you have to answer phone calls.
Pros
So let's find out what makes the Buyee BT 1000M Bluetooth Intercom Headset stand out and why you should consider this if you want to have a communications device.
It is indeed true, considering the features and specifications given for the Interphone BT1000M, you can never go wrong with choosing this headset from Buyee especially if you are on a tight budget and you have to try out Bluetooth headsets for the first time. If you require a better quality Bluetooth headset, you better opt for an intercom of Cardo Scala or Sena.
Works Well Even in Bad Weather
The BT1000M still gives good audio quality and communication services even if you are under a negative 18 degree weather condition.
Cons
Unfortunately, there are a few negative customer reviews about the Buyee 1000M dual pack Bluetooth headset.
Deplorable Instruction Manual
Unlike most headset packages where they include fully detailed instructions on how to operate the device properly, this vital information is exactly missing for the BT1000M. We are all for technical portability, but why scrap out the instructions to buyers? Not everyone is willing to skip the instruction manuals in every product purchase.
It does not function properly at lower speeds
There are also cases that the audio could not be heard properly on highway speeds. Despite the declared mainboard interface, the audio developers from Buyee still needs to work out the supreme audio quality they wanted to get for their potential customers.
Since they made the BT1000M a portable audio and communication device, the functional buttons should also be equipped with portable support as well. It will cause a hassle for motorists as they have to stop and find the right buttons for the headset to work properly.
Re-sync Headset Every Time You Turn It On
Does the Bluetooth headset of Buyee Interphone had device memory skipped on its needed upgrade? Syncing is already not an easy process, so re-syncing it to your device every single time would definitely be a waste of time for motorists.
Buyee is a company from China, and as we try to find the company information least from online suppliers of their products, there is no information available despite the attempts to refresh Google few many times.
No company information is synonymous to the lack of service warranty which is supposed to be present for all the devices and products they offer to the market. Buyee has a potential to release good and inexpensive products that can serve as the best alternative to all high-end models available in the market. Unfortunately, customers have no choice right now but to send their product inquiries to the suppliers where they made their purchase.
Final Verdict
It is no doubt that the Buyee BT1000M headset is a choice for motorists on tight budget, it helps them save money and at the same time, they can have a useful communication device on the road. Also, the six-headset communication sets this product apart as this feature still has to be instilled on popular headset brands.
It helps the motorists groups improve their teamwork together by being able to communicate with each member real-time. However, having no developer information even in the Internet is a serious flaw for potential buyers; especially for those who always need guaranteed service warranty on every purchase.
Buyee Interphone can be a good developer for high-quality products that can be sold at affordable rates for everyone. If you are a first-time buyer for Bluetooth headsets, you can give the BT1000M a try for the meantime, and we will leave the deciding factor to you if you will stick to it or working out on other models you could consider.
If you are on a tight budget, we would rather recommend the motorcycle intercoms of Shark or U-Clear!