As an Amazon Associate, we earn from qualifying purchases.
As a Cardo Systems product, the Cardo Scala Rider G9 Powerset is undeniably a motor biker's answered prayer. Its unprecedented features make it as the best motorcycle intercom there is on the planet.
The Scala Rider G9 Powerset that also includes two G9 Headsets allows as many as 8 passengers to communicate with each other crisp and clear in full duplex mode. Talking with your motorbike buddy's is just like having a face to face conversation with them. Pairing is way easy and it keeps the communication connected of up to 1.6 km or 1 mile apart.
Specifications
The Scala Rider G9 motorcycle intercom by Cardo is packed with the latest technology, and has been equipped with a social media platform. It is more than anything ordinary. It doesn't only offer one the basics of a Bluetooth headset, it provides you additional information in GPS, music streaming and radio announcements.
Here are more of the technical features you'd find in this motorcycle Bluetooth headset:
Talk time of up to 13 hours
Standby time is up to 7 days
Radio on time: 8-10 hours
Compatible with entire Scala Rider product line
Intercom conferencing with up to 8 other Scala Rider users
Intercom "One+8" – toggle between 8 additional G9 users
Click-to-Link: for spontaneous intercom connections with any G4/G9 user
Mobile Phone Conference Mode (rider, passenger, outside caller)
MP3 Player – Stream stereo music via A2DP
Built-in FM radio with RDS, 6 station presets and smart auto scan
Voice recognition technology for true hands-free operation
Flash-Pairing™ with other G9 units in 1 second
Cardo Community™ platform for social features, device customization & software updates
Group Signal: Send audio signals to up to 8 fellow riders simultaneously
Emergency/Hot-dial number
Multilingual status announcements
Supported Mobile Phone Profiles and Functions
Make / Receive / Reject calls by voice command or at the push of a button
Conference mode between outside caller, Rider-Passenger
GPS navigation device pair-able
GPS voice instructions override Music, FM Radio & Intercom calls
Built-in FM Radio
Dual ultra-slim HD speakers
Self-adjusting speaker volume according to speed & ambient noise
Features
Cardo Systems made sure that their Scala Rider G9 Powerset motorcycle intercom won't be anything less, not even a second best. It actually rose up the ante, making new room for more competition in this industry. Its features don't come as a surprise. It sure is a standout because it garnered a 5-star award from the world's top motorcycle website.
Here are some of the best features of the Cardo Scala Rider G9 Powerset intercom that made it the top choice among motorbike enthusiasts:
Definitely the first the industry, this feature gives the user the capacity to switch among the 8 G9 users just by simply stating their intercom names.
Within the Cardo Community, you can create a name for your intercom through a text-to-speech online function. The G9 can save as many as eight names in its system.
This function will give the user a notification that another G9 user is within range. If you wish to talk to the nearby G9 user, you simply press a button from the headset and talk with him on a different channel. This function may be set in your system.
With this technology, users can easily connect with G9 owners not through a seamless interface but by simply bumping. It's doing a high-five for your gadgets.
Mobile Phone Conference Mode
You can absolutely talk to people from different angles: from a fellow rider, from your passenger and an outside caller, on your mobile phone.
It's no wonder why this headset is called the sociable one. Not only does it feature a social media platform, it also provides an avenue for G9 users to meet and greet with each other. Creating an account in this community is pretty easy. Simply use your intercom serial number and from there you can customize your G9 settings which will reflect on your profile.
Pros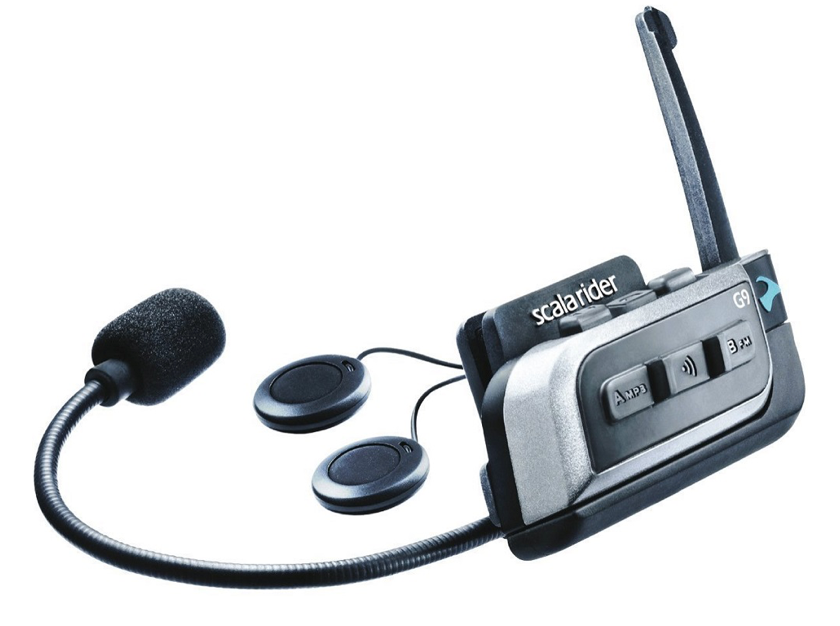 With an average of 4.2 stars based on many customer reviews, seems like this device really got something! Many customers are very satisfied with their purchase and gave it a 5-star review.
Here are some of the best things users find in the Cardo Scala Rider G9 motorcycle intercom:
Battery life's really a standout. It can stand up to 13 hours of talk time and can run up to 1 week on standby mode. That's a pretty long life!
It comes with two G9 headsets, one for your passenger or your riding buddy. You also enjoy effective and clear communications with up to eight other riders.
You and your fellow riders don't have to worry about losing the track because this device can keep you on the loop of up to 1 mile or 1.6 km.
Voice recognition is another standout. Imagine toggling to different radio stations just by merely telling this device to do so. Handy, isn't it?
Cons
As always, there'd be shortcomings and pitfalls and with the Cardo Scala Rider G9 Powerset, users also have some negative things to say. Installation process is not handy. Some say that you have to at least read three manuals to get this working. There's a lot of features, too many for some especially to those who only want the basics.
Final Verdict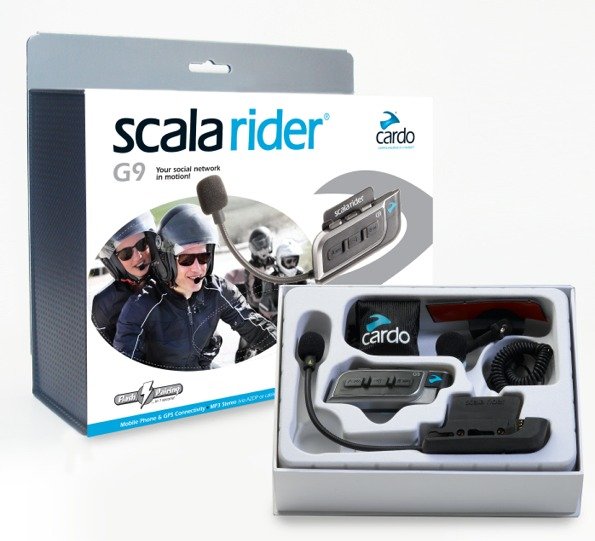 In terms of features, this product is a game-changer. This Cardo motorcycle intercom Scala Rider G9 does offer a plethora of functionalities you wouldn't expect for a bitsy device like this to have. The price is pretty good given the features and the convenience this device can offer. However, if you are only looking for the best out of basic Bluetooth headsets, then this is not a guaranteed device for you. For more basic intercom systems, you better check out the Scala Rider Q1, Rider Q2 or Rider Q3. Overall, the Cardo Scala Rider G9 is one good pick among your many options.