As an Amazon Associate, we earn from qualifying purchases.
Providing real answers to every motorcycle's needs is the Cardo Scala Rider Teamset Pro SRTS0102 motorcycle intercom. It offers wireless hands-free communication without compromising comfort or safety. It is totally easy to use and truly opens up a whole new realm where functionality and entertainment perfectly meets.
Using the amazing Bluetooth capability, riders can use their mobile phones, GPS devices, or even music players and talk through the intercom. One can take, make, and even reject calls without lifting a single finger through the voice control. In addition, this headset has the capability to automatically adjust the sound level depending on the user's riding condition.
Specifications
Making rides more entertaining, comfortable, and safe, the Cardo Scala Rider Teamset Pro SRTS0102 is a mid-range motorcycle communication system that totally lives up to its hype. Cardo Scala has always been a brand that is geared towards providing an efficient rider to passenger communication.
What sets this Cardo Scala Rider Teamset Pro from the rest of the motorcycle headsets available in the market today are its extensive features. Despite being extremely easy to install and use, the motorcycle intercom Cardo Scala Rider SRTS0102 has quite a number of great features which surprises critics and delights the users.
Check its detailed specifications below:
VOX Technology
Bluetooth Version 2.0 Class 2 Chip
Full Duplex Motorcycle Intercom
Rider-to-Passenger Motorcycle Intercom Communication
Fits Full Face and 3/4 Helmets
GPS Devices Compatible
MP3 Players Compatible (with cable included)
Rugged Design
Dustproof
Weather Protected
Easy Installation within minutes
Quick Release Mechanism for Headset
AGC Technology – automatically adjusts the volume
Dual Ultra-Slim Speakers
4 Large Control Buttons
Noise Cancellation
Speaker Booster
Voice Dial
Last Number Redial
Call Reject
Transmit Navigation Instructions
Battery Type – Rechargeable Lithium Polymer
Talk Time of up to 10 hours
Standby Time of up to 1 week
Charging Time of 3 Hours
Certificates – FCC, IC, CE, Bluetooth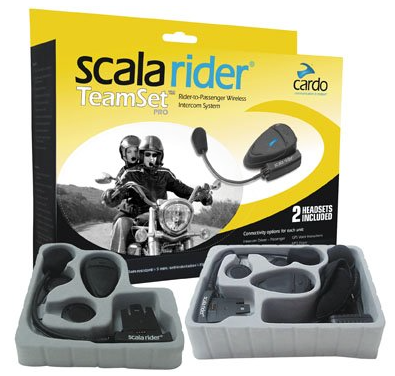 Features
The Cardo Scala Rider Teamset Pro SRTS0102 comes with a very easy-to-understand manual. Most motorcycle riders today ignore the manual and entirely rely on intuition alone. While this headset/intercom is easy to use, it would definitely be easier if one is to read the manual. This also ensures that the user will get maximum benefits by knowing each feature of this intercom.
With a variety of features than just the basic intercom features, the Cardo Scala Rider Teamset Pro system offers MP3 connectivity, Bluetooth capability, GPS voice instructions and a full-duplex intercom system. Clarity of audio is surprisingly great up to a workable 150 meters. Let us get to know more of these amazing features.
VOX is the short term for voice-operated switch which basically lets the intercom users to receive, initiate, and even reject mobile phone calls through the voice control feature. Typically, this technology is the better alternative for push-to-talk button which most experts think is safer as well.
In addition, the VOX sensitivity levels of Cardo Scala Rider SRTS0102 can be customized to suit every rider's personal preferences.
This refers to Automatic Gain Control technology that works by automatically adjusting the volume depending on the ambient noise, driving speed, and other environmental factors. This is actually just an option. Riders can still control the volume manually though especially for those extra short rides.
Cardo Scala's AGC technology is famous for being extremely responsive and fast. Just like the VOX technology, this AGC technology can also be customized to suit every motorcycle rider's preferences.
In addition to its rugged and durable construction, the Teamset Pro by Cardo Scala Rider is made weather proof and dustproof. These features should put every motorcycle rider's mind at ease.
One can never know what you might come across during every adventure. There could be rain and there would definitely be lots of dust and other tiny particles along with the wind blowing through your helmet that could affect the headset/intercom's capability to function efficiently.
With this feature, riders can focus more on the road instead of worrying how to protect their precious headset/intercom.
Given the efficient Bluetooth capability of the riders can connect or pair this up with their mobile phones, MP3 players, and navigation devices. Because of the multiple device connectivity, one can easily connect up to two Bluetooth connections and to other Scala riders via the motorcycle intercom.
Pros
You can fully grasp how the Cardo Scala Rider SRTS0102 can easily clear up the communication lines while on the road riding your bike with a passenger or other bikers.
While the SRTS0102 model from Cardo Scala is intended for rider-to-passenger use, some experts tested this on two separate bikes and of course, it still worked great.
Unlike intercoms with push buttons, VOX technology lets the hands of the users stay on the handle bars. This is made possible by the more advanced circuit that VOX technology has. Such technology by Cardo Scala is more sensitive and is designed to work even in noisy environments as could be expected.
Riders can enjoy different entertainment options with audio players given that there is already a cable provided in the package or through Bluetooth connections if the audio player is Bluetooth capable.
Cons
Currently having a good rating, customers who have bought the Cardo Scala Rider Teamset Pro SRTS0102 intercom have spoken of how well it works. It is such an efficient communication method that comes at a very low price especially if you are to compare it to other brands and models.
Customer are also all praises for the sound quality which they all think is a great bonus on top of the fact that it is easy to install, easy to use, and of ultimately, makes the ride even more enjoyable. However, there are a few ones who say that the volume was so low. Remember that the volume automatically adjusts but you can always adjust it manually.
Final Verdict
The Cardo Scala Rider Teamset Pro SRTS0102 motorcycle intercom is absolutely impressive as far as quality and functionality go. It paves way for easy and clear communication. It even offers more than just plain communication with entertainment and navigation features.
Best part is that it is very affordable which would make this a definite steal given the price range of most Bluetooth motorcycle headset/intercoms today.