As an Amazon Associate, we earn from qualifying purchases.
The Garmin Zumo 350LM is not available anymore! Check out the Garmin Zumo 396 instead!
Designed by bikers for bikers, the Garmin Zumo 350LM features enhanced navigation capabilities specific for motorcycle use. This also has a highly visible sunlight-readable touchscreen display and a glove-friendly interface. It is very sturdy and comes with a mount for both motorcycles and cars.
Built tough for bikers, this is one rugged GPS navigation device that looks stylish but totally durable. It is waterproof of up to 1 meter and is not bothered by rough and rutted out roads. This even comes with a service history log so that users can keep track of their motorcycle performances.
Specifications
Created with style, passion, and intelligence, the Zumo 350LM by Garmin just might captivate you even before you turn it on. It looks absolutely stylish yet feels solid. GPS reception is a remarkable improvement from the previous models.
Acquiring a signal is now made easy with this 350LM Zumo, which results to incredible fast routing calculations and easier to refresh maps. Let us get to know more of the countless great features of this Garmin Zumo motorcycle GPS device making it even more perfect for motorcycle riders.
High-resolution glove-friendly 4.3-inch touchscreen display
IPX-7 – rugged waterproof design
Lane assist with junction view
Bluetooth wireless technology
Average battery life of 7 hours
Lifetime map updates
Headphone jack/audio line out
Preloaded street maps
Accepts data cards like microSD cards
Custom POIs
1000 waypoints
Speed limit indicator
Route avoidance
View upcoming points of interest
Pros
The Garmin Zumo 350LM works exactly as advertised. It has a rugged built and is easy to use even with the gloves on and regardless of weather. However, the GPS capability remains its best feature because it is without a doubt the best there is today.
Getting to know how the Zumo 350LM of Garmin works is pretty easy. The package comes with a manual but anyone could get through every single function by themselves making it totally intuitive. Does the Garmin Zumo 350LM have everything that a motorcycle rider needs? Yes, of course, and then a bit more. Check out more of wonderful features below:
GPS reception of the Garmin 350LM is its strongest feature as getting a signal even at basements proved to be of no problem. In fact, some say that the GPS capability of the Zumo 350LM is even better than the higher end models.
In addition to your super-fast connection capabilities, this also offers the great convenience of lifetime map updates at no extra cost. This would necessarily give users up-to-date mapping and most current information about every establishment along your route.
What is even better is that the search bar gives points of interest as one inputs letters adding more comfort and convenience to the intuitive experience. The lane assist with junction view further guides the rider on where to go. However, this latter feature would best be used with a Bluetooth intercom headset.
Planning ahead with basecamp
BaseCamp basically lets anyone create routes, waypoints, and tracks in the computer and transfer at a later time to your Garmin Zumo. Furthermore, the 350LM has a Track Draw feature, which lets users trace the planned route and study the elevation changes. This can therefore make one determine if it is going to be an easy and smooth ride or a more challenging one and prepare for it.
Another great thing about this is that it stores the previous tracks and trips so if you happen to develop a certain attachment to a specific track or place, going back would be easy breezy.
Helps keep the motorcycle in tiptop shape
You should know by now that proper maintenance is the most important thing if you frequently travel with your motorcycle. However, it is extremely easy to forget oil changes and chain cleanings especially if you have been too busy the whole week.
The Garmin Zumo model 350LM is not just your perfect navigation partner but it will also remind you of the things that need to be done before you do any kind of travel through the very helpful Service History Log. This lets users record the important stuff like date, mileage, maintenance type, tire mileage, tire pressure, tire changes, oil changes, chain cleanings, and spark plug replacements. Check out the manual for detailed instructions.
Cons
The Garmin Zumo 350LM works great at any given time and at any given road and weather situation. Most consumers who have already bought this agree that it is indeed one of the best investments that have made. However, the only concern would be the higher price compared to other brands and models available in the market today.
Final Verdict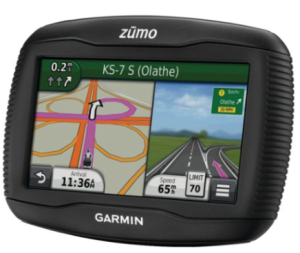 It is no wonder that this 350LM is now more highly preferred over the more advanced Zumo model of Garmin. It has got a more intuitive interface and feels more solid and sturdy. You will love the fact that you can insert and remove the microSD card without having to dismount it from the bike or from the car.
It is easy to operate, keeps you safe and away from traffic, and gets you to and from your destination the fastest way possible. The screen is beautiful and could very well be one of the daylight screens out there today.