As an Amazon Associate, we earn from qualifying purchases.
Garmin's Zumo 395LM and 595LM have been launched earlier this year and it's packed with features to help riders discover roads that are good for travel and make those rides safe and secure too by way of the rider alerts feature. Apart from that, users will also get to enjoy features like music streaming options and a lot more.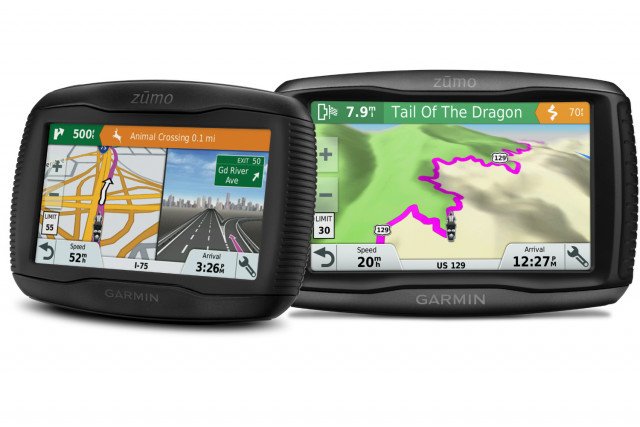 Zumo 395LM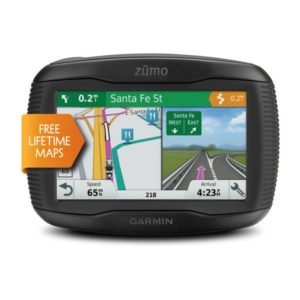 Known for their innovations in GPS advancements, Garmin has made another modern product that will take riders to safer rides. By using this unit, motorcycle riders will have an enhanced road awareness that's crucial to everyday life on the road.
The unit includes beneficial notifications like alerts for railroad crossings, school zones, animal crossings and hazardous curves. It also includes the benefits of state helmet laws which is ideal if you are fond of riding to new territory.
Do you always experience tiredness and fatigue during a ride? Check out this nifty feature that the unit possesses which is the fatigue warning function; this is a helpful notice that warns riders and recommended potential pit stops around the area so you can go ahead and rest or sleep for the night. It includes another feature called the Easy Route Shaping too so riders will get to modify their routes by going to preferred roads and spots.
Measuring fuel is also a breeze with this unit because it has a digital fuel gauge to measure the amount of miles you can still cover before losing fuel. The fuel stop alerts encourage riders to stock up on gas and it even suggests adjacent gas stations for your convenience. In need of biker-related points of interests? You can avail of those POIs because the unit has a database covering all needed information.
The Service History Log includes maintenance procedures, service dates and mileage so you will see whether your ride is still up to snuff. Real Directions assist riders in their travels by providing spoken turn-by-turn directions.
It has VIRB camera compatibility to so you can film your life on the road and the Garmin Express feature keeps riders updated by way of maps and software. Users can transfer data from other devices and it also includes an automotive mount and power cable so you can have the device in whatever ride you use.
Users will get to acquire free lifetime updates, opt for lane assist and its TracBack feature gathers all the attributes that the brand is popular for.
Zumo 595LM
The unit is blessed with an app called the Smartphone Link7. This specific app activates features like the LiveTrack, and advantageous attribute that lets your friends and family know your locations while you travel. It can be paired with a compatible smartphone and like gadgets such as helmets or headphones as long these devices include Bluetooth Technology.
If you are into music, you can now listen to your faves by using the device's media features which is capable of streaming music from a compatible MP3 player or smartphone. Users will also get to enjoy their Spotify and Pandora playlists by means of this device.
Travel safe with the help of Rider Alerts; it provides helpful alerts for steep turns, school zones, railroad crossings, animal crossings and a lot more. State helmet laws are also yours to refer to thanks to the unit. Riders will also get alerted each time they make erroneous turns on one-way streets and acquire alerts for red lights and speed cameras that are nearby.
Afraid of running out of fuel? Worry no more for the device will provide more alerts about your fuel situation; it has a digital fuel gauge to measure gas and it also include fuel stop alerts to make riders stock up on the stuff.
Motorcycle-related POIs like service shops and dealers will keep you abreast of where to turn to during emergencies while the Service History Log's purpose is to keep you updated with your ride's current situation. Like the 395LM, this model also includes Real Directions and Direct Access. Users are also benefited with lifetime map updates, navigation features like the TracBack, 3D Terrain and Real Junction View.
The Comparison: Into the Details
Garmin has once again made it with a new batch of GPS motorcycle navigation tools by way of the Zumo 395LM and the Zumo 595LM. These devices help in managing everyday traveling tasks by means of its features as mentioned earlier.
Looks-wise, each unit has its differences. The 395LM weighs 270 grams while the 595LM 374.5 grams all in all and when it comes to display resolution, the former has 480 by 272 pixels while the latter has 800 x 480 pixels. In terms of display size, the former features 9.4 x 5.6 cm display size while the latter has 10.8 x 6.5 cm; the display type of the former meanwhile features WQVGA color TFT with white backlight while the latter has transflective attributes.
The 395LM has smaller text than the 595LM, which makes reading off of the device difficult. Many users who have used the former complained of this setback, especially while trudging bumpy roads or gaining speed; the vibration that these actions causes can make the text on the display unreadable. Both units are user-friendly since riders won't have to remove their gloves just to fiddle with the device; the touchscreen device was designed to be glove-friendly.
The devices make use of almost the same technology. Both devices feature Garmin's Adventurous Riding which helps riders find better motorcycling routes between A and B points. They can now avoid routes with plenty of curves, hills, and lengthy highway expanses.
Rider alerts as mentioned previously allow riders to be notified of other sorts of risks that await them, including forthcoming abrupt corners, school zones and animal crossing spots. Furthermore, both units will display adjacent speed camera areas and red light zones and it will also alert riders of helmet laws while traveling state borders.
The 595LM takes traveling to another level by means of its Smartphone link application. It can display information like traffic data and weather radar, even text messages coming from your phone. Both devices let users gain control of media or music from a matching MP3 player or smartphone but the 595LM lets users stream music from their Pandora and Spotify playlists, thanks to a compatible helmet or headset which are sold individually and not included in the GPS package.
If you are a busy bee who has to handle work while traveling and you need those phone calls to keep yourself in touch with things, both devices let riders make or receive phone calls without taking their hands off the bike. Furthermore, spoken directions can be had if the device is paired with a matching helmet or motorcycle intercom headset. If you want to keep yourself connected with family and friends, the brand has its LiveTrack feature which lets users share info from their ride so loved ones can keep track of their current location.
To supplement those features, the company has guaranteed to provide both devices with similar properties that riders have anticipated in any of their GPS products. Both devices have the Dynamic Fuel Stop feature, which recommends fuel stops depending on the distance the user's gas or fuel is anticipated to remain. Both have the Service History log as well so riders can keep their bike maintenance duties in check.
Roundtrip Routing lets riders plan and manage their route depending on the location, distance and selected timeframe. Likewise, both devices are matched with the brand's VIRB action cameras so they can film footage straight to the unit's display screen. If you want to monitor the tire pressure, you can also purchase an additional item from the brand like the Tire Pressure Monitor Sensor system.
In terms of money matters, if you are on a budget, the 395LM will be more your speed. It costs a couple hundred dollars cheaper than the 595LM. The latter is a splurge but if you definitely want the unit's features, then you have to save up because it is a worthwhile investment, especially if you are the type who can't get enough of music while on the road. If you don't need the latest new features, you could opt for the old models, the Zumo 390LM or the Zumo 590LM which are both still very good motorcycle GPS devices compared to other brands and models available today!
The Final Verdict
It is up to you to decide what model is best for you. Both items worked wonderfully in terms of the features though. If you want a no-frills GPS unit, you can opt for the 395 and if you want the added features that the 595LM offers like streamed playlists, you can go for the latter.
Your preferences and your needs should be the cornerstones of your gadget-buying decisions, not because somebody told you that it is the "trendy thing right now". That way, you will get the most out of your money and you will get to use that gadget for a longer time. You will also save more money in the long run if you happen to buy a GPS device that will answer to your motorcycling needs.