As an Amazon Associate, we earn from qualifying purchases.
The Scala Rider Q3 is no longer available, check out the Scala Rider Freecom 4 instead!
Cardo Scala presents a new and smaller but more functional design of Bluetooth motorcycle intercoms in the name of Scala Rider Q3 MultiSet. It now has more advanced features but still reflects some design elements that have been Scala's legacy right from the start.
This is regarded as the most complete and comprehensive intercom system. The intercom now has a sleek new design with outstanding ergonomics, longer battery life, easy-to-use new features and functions, and is even price competitive. The Q3 Multiset also offers music sharing which is yet another new feature from Cardo Scala Systems.
Specifications
The technological side of every motorcycle rider's world stopped when Cardo Scala finally released the Rider Q3 intercom system. From the mere looks of it, this intercom system now has everything that the previous users were requesting for and then a bit more.
Basically, the Scala Rider Q3 intercom system has all the features of the Q1, which is released at the same date but has more advanced features specifically the ability to pair up to 4 other Q3 intercoms and a longer range.
To know more about the detailed specifications of the Rider Q3 intercom system, check the list below:
Bike-to-Bike Intercom between four bikers
Distance of up to 1,100 yards
Full Duplex
Music Sharing
Detachable Speakers
Large, intuitive control buttons
Click-to-Link Spontaneous Intercom
Interchangeable Boom and Corded Microphones
Fits all Helmets
Unique Online Platform
Programmable Hot-Dial number
AGC Technology
VOX Activation
Built-In FM Radio with RDS
Spoken Status Announcements
Talk Time of up to 8 Hours
Standby Time of up to 1 Week
Noise Cancelling Microphone
IP67 standard
Waterproof
Dustproof
Dual HS Profile for Connection of two Bluetooth-enabled mobile phones
Stereo Bluetooth-enabled MP3 Player/iPod or smartphone for wireless music streaming
Non-Bluetooth audio player (cord included)
Bluetooth-enabled GPS unit
Compatible with other Scala Rider models
CAPA Certified
DOT Certified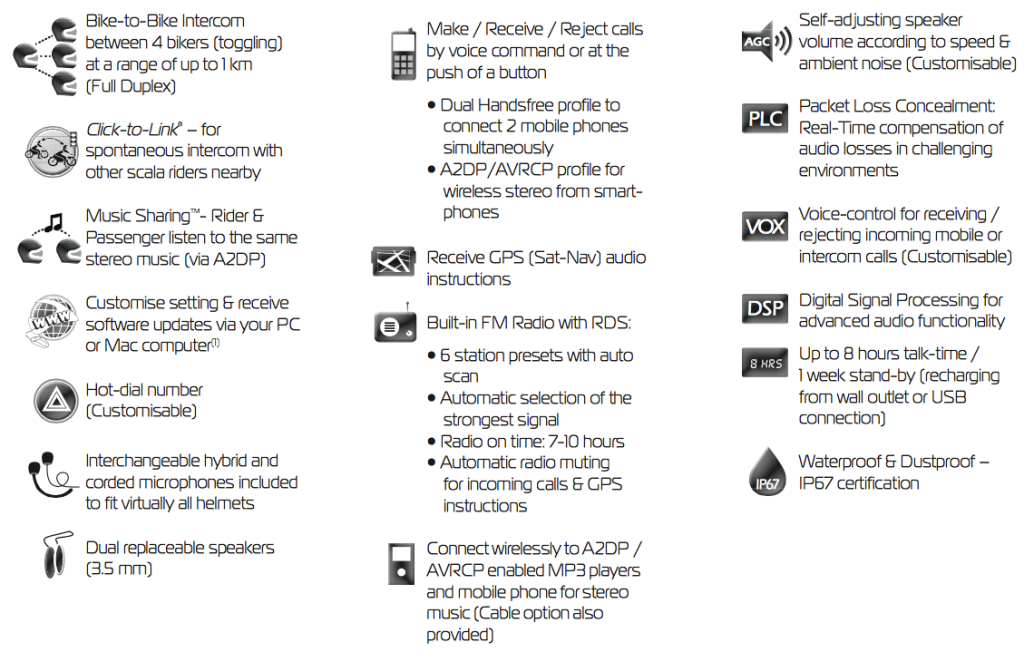 Features
If there is a motorcycle intercom system that can capture your interest right at the minute you saw it and even manage to increase it once you get your hands on it, it would have to be the Scala Rider Q3.
Let us discuss some of the most-loved features of the Scala Rider Q3:
Durability
One thing you will notice upon closer look of the Scala Rider Q3 is the small soft tether plug. You have to make sure that this is always stays in place because it is the one responsible for keeping the whole unit safe against environmental and weather elements.
The plug is located at the inner back which is said to help maintain the integrity of the intercom system. In addition, this is located close to the helmet to keep it from being directly exposed to elements.
MDC or Multi-Device Connectivity
All riders know the importance of this feature but what makes this even more special with the Q3 intercom system is because it is further enhanced by dual Bluetooth channels and therefore, the dual hands-free profile capability which ultimately benefits riders.
Because of the dual Bluetooth channels, the Q3 can support two devices at the same time. For example, you want to connect two of your smartphones or a smartphone and a music player or even a music player and a GPS device.
Audio Priorities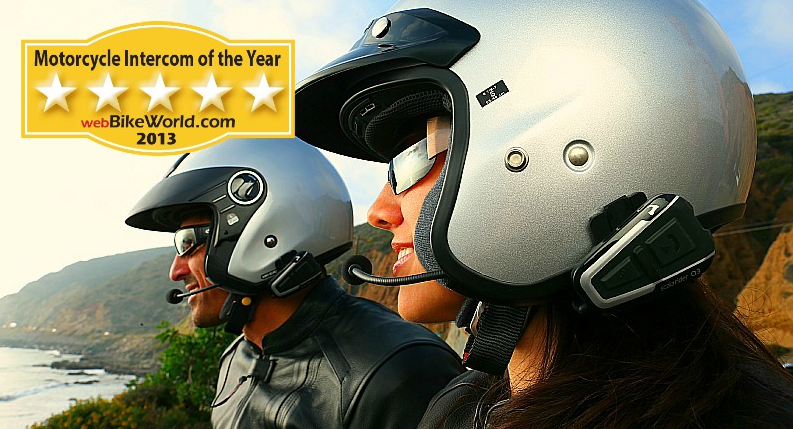 Because of its multifunctional capability, the Rider Q3 intercom system comes with fixed audio priorities so that the intercom system knows which one of the features you are using to prioritize since there would most likely be times when two or more are in use. The fixed audio priorities are as follows: phone/navigation device, intercom/click-to-link, A2DP stereo Bluetooth audio, FM radio, and auxiliary or wired connection.
However, Cardo Scala loves their customers so much that for the Q3, they are offering a bit of customization to suit every rider's needs. For example, the A2DP stereo Bluetooth radio can be swapped with the intercom depending on one's preferences.
Once this audio priority begins, each time someone calls you or you make a call, all the other functions stop or take a timeout. After the call, the ongoing features will resume but not abruptly and more like in a subtle manner.
Pros
The package includes two pre-paired Scala Rider Q3 motorcycle intercom systems. Each unit features a stylish aerodynamic design with the great ability to toggle in full duplex mode for up to four riders for as long as it is within the given range of 1 km or 3,200 feet.
What is even better and preferred by most riders today is the Click-to-Link feature which is a patented technology of Cardo Scala that allows spontaneous connection without pairing.
The Scala Rider Q3 motorcycle intercom system is IP67 certified which basically means it is waterproof and dustproof making it a perfect headset companion for those long trips. The seal actually protects an open portion which is actually the micro-USB port.
The Scala Rider Q3 comes with interchangeable ear buds and noise cancelling headphones which means not only is the communication between others in the group clearer, you can also enjoy music much better. And, of course, if you do need to make or take a call, you can hear the person on the other end of the line loud and clear,
It's not dirt cheap but you do get value for your money with a Q3 purchase. It's easy to use and the audio quality is highly rated by previous buyers, and if you are looking for a motorcycle intercom an excellent audio quality would take top priority.
Cons
We give it an almost perfect 4-star rating, and most consumers who bought this Scala Rider Q3 say that it is indeed a tremendous improvement from the previous models. Everything works perfectly. It is easy to install, even easier to use, and truly makes riding more enjoyable.
However, some had problems with hearing the music perfectly. Users much check the cable (if they are using one) since this would be the most likely culprit for such problem.
Final Verdict
The Scala Rider Q3 is outstanding in every possible way. Cardo Scala has perfected the concoction of putting together all the useful features in an intercom system. It is very well worth its price given the long list of features. Whether you are going for a short weekend trip or that year-long planned trip with your friends, the Q3 will not disappoint. It is simply excellent, reliable, user friendly, and durable. The Q3 has even been given the Best Intercom of the Year award!
For all the said reasons and more, the Scala Rider Q3 intercom system has quickly become an indispensable part of the riding gear that every motorcycle rider' carries or dreams of having.