As an Amazon Associate, we earn from qualifying purchases.
If there's one thing one learns from relationship gurus, it is the value of communication. The importance of communication is a valuable virtue as well for motorcyclists. The emphasis on the importance of communication even while on the road is what Sena, a leading brand in terms of wireless communication technology embodies.
Products from Sena Technologies
Sena, known today as one of the prime leaders when it comes to Bluetooth innovations won't be the name that they are now without the quality products they produce. Listed below are some of the best-known motorcycle intercoms ever made by Sena Technologies:
Ideally for full-face helmets, the SMH5 is a Bluetooth 3.0 stereo headset with a capacity to do long range Bluetooth intercom to up to 4 users.
This technology allows the users to make and receive calls hands-free, listen to their favourite music or get voice instructions via GPS navigation wirelessly. Intercom conversations are seamless and are done in full duplex mode with either a passenger or your companions. The SMH5 also features a multi-language voice prompt that includes English, French, Italian, Spanish and German.
If you want an intercom with boom microphone and wired microphone, then this got to be your first option. It has all the perks a Sena product offers: Bluetooth connectivity, voice instructions via GPS navigations and seamless stereo music streaming.
This product is a preferred choice by most consumers because of its additional microphone kit, and its advanced processing technology that gives it the best sound quality. It also comes in with a easy to operate and highly intuitive buttons. Conferencing is possible up to 4 persons.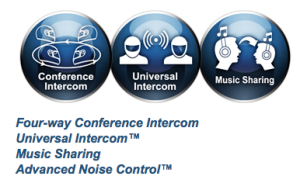 This intercom system is a sports biker's best friend. It is thin and compact making it ideal for a sports biker's helmet.
It is equipped with Bluetooth technology version 3.0. Its intercom technology can keep you connected to up to 4 people and as far as 900 meters in an open field. Sound quality is crisp and clear. Other good features include: stereo headset for Bluetooth enable audio devices, Bluetooth playback, receive and make calls hands-free, voice instructions via GPS navigations, waterproof and upgradeable.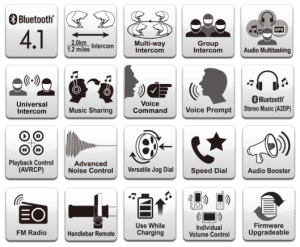 This probably is Sena's best product so far. It comes in with the innovative Jog dial technology allowing users to fully maximize their intercom system.
The Sena 20S is a Bluetooth 4.0technology equipped with dual Bluetooth communication modules. It also has an advanced Audio Multitasking feature that allows one to create a blend of incoming and outgoing audio seamlessly. There is little to zero noise with this technology.
Bike to bike conference using the Sena 20S might probably be one of the best experiences you'll have so far because of its HD Quality sound, voice prompts and commands are pretty intuitive and the intercom distance can be as far as 2.4 kilometers in an open field. It also comes in with a built-in FM radio tuner to which you can scan and save your favourite radio station.
This Sena intercom product is basically intended for those who are using half helmets. It has everything a Sena product has to offer: Bluetooth connectivity vs 3.0, Bluetooth music playback control, intercom functionality for 4 persons, receive and make calls wirelessly and voice instructions of GPS navigation.
All these good products from Sena come in with a warranty of up to two years; thereby guaranteeing every buyer that the products they sell had gone through series of tests and quality control. These products are very much loved by its buyers because of the simplicity of its design, no need for different controls for different functions. They are also easy to install and are made to fit in to various types of helmets.
Sena Technologies: An Industry Leader
Sena Technologies is a leading name when it comes to wireless technology offering a wide array of hardware, software and services specifically intended for machine-to-machine (M2M) communication systems.
Perhaps, when one mentions Bluetooth Intercom Communication System, immediately the first thing that comes out of one's mind is Sena. This is because the company has been a leading name in terms of Industrial Bluetooth Solutions. Not only their product looks appealing, they make sure that they are properly equipped with the most advanced technology.
Motorcyclists, who have been using intercom technology, will find it hard to look for an innovation like that of Sena's Jog Dial. The Jog Dial technology is the most instinctive interface there is for device control. The user won't find this technology as hard to use since it is made to be glove-friendly as it comes in with a one-face one-button design.
Apart from wireless communication system for motorcycles, Sena also provides the most advanced technology for snowmobile, ski, snowboard, rock climbing, hunter and motorsports use.
What They Are Good At
Since 1998, Sena has been providing wireless communication solutions to its consumers. They offer wide-ranging hardware, software and services for communication systems. The products they produce are of great quality but they just don't confine to be doing just that. They make sure that their products are the industry's best. They set the trend.
With a long history of production, Sena is a trusted brand because they guarantee customer satisfaction. Their outstanding customer service is geared for their customer's specific needs. They employ in-house design and developer teams so they are able to revolutionize their Bluetooth technology as soon as new trends arise.
What Drives Sena to Innovate
Sena is committed to providing their consumers with the most advanced technology. They have teams of engineers that ensure their products are working well at very good quality. They continuously innovate so that they set the trend in the Bluetooth technology.
Makers of Sena are users themselves. They are the critics of their own products. They develop their products in the way they would expect a Bluetooth communication system expect them to be and a lot more.