As an Amazon Associate, we earn from qualifying purchases.
The Sena SMH5D-02 is no longer available. Check out the Sena SMH10 instead!
Small, convenient, and feature abundant, the Sena SMH5 offers a lot of performance for daily use or for occasional motorcycle drivers who want to have lots of features at a reasonable price.
With its easy and quick installation process, Sena SMH5D-02 full-face helmet intercom, one can instantly enjoy the perks of Bluetooth technology while on the road. It also is equipped with the latest digital processing technology for better sound quality.
It isn't the kind of feature-for-feature product one would probably expect as most find it as a basic communication tool for motorcycle riders. However, it does offer a two-way intercom that allows you to talk with your companion at the back or other motorcycle riders.

Sena SMH5D-02
Click here to BUY NOW
Specifications
The SMH5D-02 Bluetooth intercom by Sena is being sold as a single pack or a pack of 2.
If you are travelling constantly with a companion, buying a pack of 2 will help you save more.
See below the specifications of this motorcycle intercom:
Wireless Bluetooth 3.0 headset and intercom
Multi-pair with up to four other headsets
Hands-free calling for motorcycles and scooters
Individual volume profiles
Integrated audio booster and playback controls
Bluetooth Intercom can reach up to 400 meters or 437 years
Bluetooth music playback control: play, pause, track back, track forward
Comes in with an integrated audio booster
With good sound quality
Talk time is up to 8 hours, 7 days stand-by time
Water resistant and good to use in inclement weather
Bluetooth headset or stereo headset for GPS navigation systems
Quick start operations manual
Features
The Sena SMH5D-02 is such a saver for motorcycle riders, especially those that go for long drives. Not only does it provide a convenient way of communicating but it also gives them a form of entertainment while on the road.
Here are some of the best features of SMH5D-02 headset:
With this technology, motorcycle riders can avoid danger in answering calls while driving. They can easily answer or make calls without the need to physically hold their phone or attach any cords to make it hands-free. Moreover, this Bluetooth technology gives riders the convenience and pleasure to enjoy listening to their favorite music while driving. It's even more convenient because the headset's operation is pretty smooth, thanks to its intuitive buttons.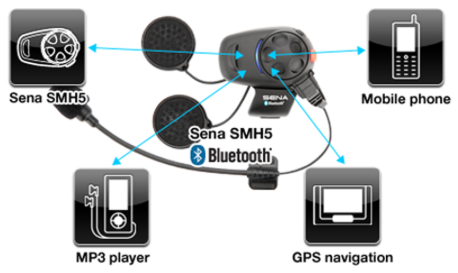 Advocating road safety, this headset is integrated with voice prompt feature that allows the rider to totally focus on the road while doing other functions other than driving. This delineates the need to take their hands off from the bar to control their headset, especially when they are to operate on its different functions such as volume control, making calls and GPS. Voice prompt feature is multi-lingual with English, French Italian, German and Spanish languages to choose from.
Individual Adjustable Volume Profiles
The SMH5D-02's Jog Dial allows the user to easily change the volume of the voice, music or intercom according to one's preference. It has the ability to keep the previously used volume for a specific profile.
It's easy to note that Sena SMH5D is one of the friendliest headsets for motorcycles and scooters. Not only does it offer convenience for the users, but it also comes in a handy package and easy installation process. This headset fits just about any type of full-face helmets. A standard clamp is already into its standard package; however, if you need some extra wire length or change its standard wire microphone to a boom microphone, Sena offers other accessories to fit various user preferences.
Pros
With the feature and specifications all laid out, what will you really get out of it? Below are the many good things to expect from the Sena SMH5D-02 full-face helmet intercom:
Hands-free streaming and calling. Basically, it is the best advantage of having a SMH5D-02. It's actually a lifesaver and convenient.
Connects up to 4 headsets making conferencing with 4 people while riding on a motorcycle very easy. You just have to press that single red button, and there you go.
Crystal clear sound. Many reviewers find the Sena SMH5D's sound quality close to perfect. There's a little to no background noise during calls.
Water resistant. Aside from being tiny and handy, this Bluetooth headset is said to be durable withstanding squally weather conditions.
Just a little under a hundred bucks for the single pack with all the good features one needs for a handy Bluetooth headset, this product definitely is worth every buck.
When you purchase the SMH5D-02, Sena assures you of a good quality headset by guaranteeing you a two-year warranty. The warranty card is already included in the product package.
Cons
But of course, there are some drawbacks too. Compared to Sena SMH10's 900-meter range, SMH5D-02 Bluetooth Headset's range is only 400 meters. If in any case, one of your companions disappears around a curve or hidden over a hilly area, connection will be difficult.
Intercom communications are interrupted when the device is paired to a cell phone and a call comes in. The matte rubber coating of the device makes it an easy cling to the motorcycle helmet, but it is also a magnet to dust and lint. Just make it a habit to wipe it with a damp cloth to remove such particles.
If you are rooting for a super high-end Bluetooth headset, then this device is not for you as it offers pretty basic features. You would be better off with the Sena 20s, which is Sena's top of the range intercom system.
Final Verdict
Sena SMH5D-02
Click here to BUY NOW

The SMH5D-02 intercom for full-face helmets is definitely a good buy. Although it doesn't offer high-end features or Professional kind of motorcycle communications, it presents really good basic features that even first time users will find it easy to use.