The Shark SHKLXMBT688IL motorcycle intercom is perhaps the longest name for a product sold in Amazon. Kidding aside, this motorcycle intercom has got everything every motorcycle rider would wish to have. It's a blend of a conventional and advanced intercom.
The SHKLXMBT688IL set comes in with intercom systems that may be mounted to different helmets as the package already includes the intercom's mounting kit. Unlike other intercom sets, you can easily detach the product's microphone and headset. And on top of it all, the SHKLXMBT6588IL allows you to connect to with 6 other persons with Intercom Motorcycle Bluetooth headsets.
Specifications
Garnering a 3.5 out of 5 rate from many customer reviews, the SHKLXMBT688IL by Shark must have really something good to offer.
Aside from being able to provide communication between six riders at a time wirelessly at a long range, this intercom system also has one of the best audio qualities both for music and calls.
If these are not enough, here are more of the product's specifications:
Pairs up to 5 interphones at a time with the ability to switch to any 2 of them.
Detachable microphone and headset
Smooth and savvy connection through Bluetooth
With a 3.5 mm audio input for external media play devices
Waterproof
Intercom range is up to 1000 meters
7 hours talk time
Resistant to different kinds of weather
Fits with any motorcycle helmet
Comes in with mounting kit
RF output Power: 0 dB
Battery Capacity: NiMH rechargeable batteries with 400 mAh
Frequency Range: 2.45 to 2.479 GHz
Frequency Audio response: 30 Hz to 22 KHz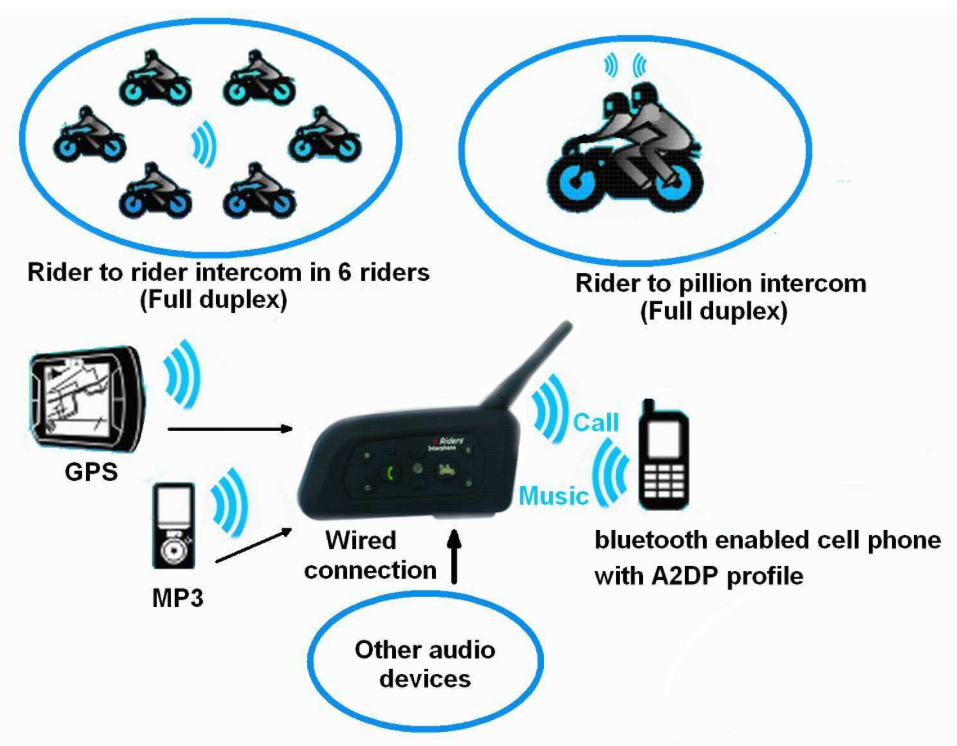 Features
Shark designed SHKLXMBT688IL as a Class 1 stereo headset equipped with a long-range Bluetooth intercom system specifically designed and made for motorcycle enthusiasts. Because it's a stereo headset, it can stream and allows you to listen to radio, mp3 players or your smartphone via Bluetooth.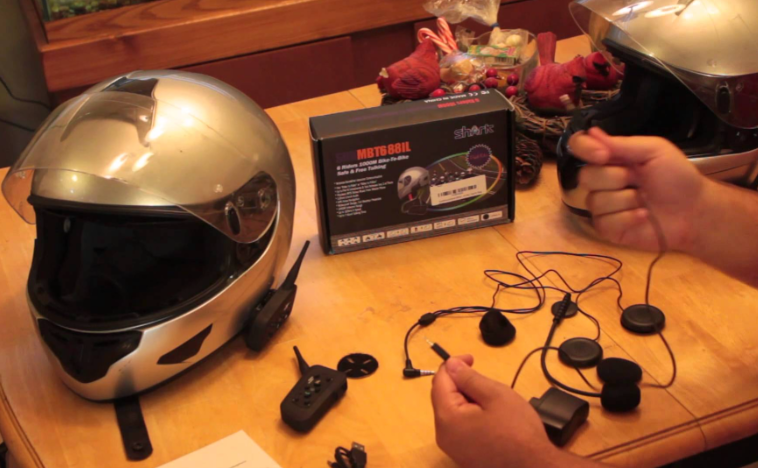 Already loving its perks? Here are more of its features:
Hands free connectivity and functionality
The SHKLXMBT688IL allows you to make and receive calls, listen to your favourite music station, get instructions via voice through your GPS navigation or converse with your passenger or your motorcycle riders in full duplex mode wirelessly.
No Bluetooth Connection? No Problem
If your gadget doesn't have any means to connect to the intercom wirelessly, you can have them connected to your intercom through its 3.5mm input jack. Like the old times, just simply put in the audio cable into the jack to start listening to your favourite music.
The buttons are made of plastic and rubber. Its structure has been made stronger so it can stand different conditions of weather and stay waterproofed.
The SHKLXMBT688IL can keep you connected at up to 1000 meter-range at a speed of 120 km/h.
Pros
Below are some of the qualities buyers from Amazon love about the SHKLXMBT688IL Motorcylce Bluetooth Headset Intercom:
The SHKLXMBT688IL is incredibly priced. It definitely is a price that any average Joe can truly afford without sacrificing good quality.
Sound quality is fairly good
Most of the reviewers find the SHKLXMBT688IL's voice quality as one of the best provided compared to the price it costs. A2DP music quality is astounding especially for stereo streaming from their Bluetooth MP3/Smartphones and other A2DP devices. For better quality sound, you could opt for the slightly more expensive Sena SMH5 or Scala Rider Q3.
Battery life is pretty long
Reviewers say that the intercom's battery life is stellar in that they can go using this product for three days without having to worry about it wearing its life out.
Connecting is smooth and the intercom quality is stellar
There's no need for codes when connecting with the SHKLXMBT688IL, that's why buyers adored this product. When it comes to intercom connectivity, they find to product to have provided them with full-duplex quality between their passenger and their pillion.
Cons
Of course, there'd be pitfalls. Here are some of the "not-so-good" qualities buyers found in SHKLXMBT688IL motorcycle Bluetooth intercom. The buttons are small that it'll be hard for the user to use it with their gloved hands. In some reviews, they find the buttons to be hard to use with their gloved hands which can really be frustrating especially when they want something to work. They have to repeatedly press the button to finally get them to work.
The instruction manual is hard to decipher. There were a lot of things being told about the product's "Chinglish" manual. Although readable, the product's manual is not user-friendly and if one has to learn about the product, he/she must really have to put more time to understand it fully.
Final Verdict
If you are looking for relatively cheap but quality intercom systems, then the SHKLXMBT688IL by Shark is definitely a good choice. Not only does it offer you a real good product at an affordable price, it also comes in two sets. Such a saver!