As an Amazon Associate, we earn from qualifying purchases.
Motorcycle GPS devices are now a reality and there are plenty of brands available in the market due to popular demand. GPS units for motorcycles are different from other like devices since they have functions that are specifically designed for motorcycles.
Garmin is one of the top motorcycle GPS unit manufacturers today, and its Zūmo series are built, produced then tested to meet motorcycle riders' specific needs. The Garmin line is manufactured by longtime motorcycle riders themselves and their products cater to riders who need nothing but the best fully-functional devices that will last them not only during longer rides, but for a lifetime.
There are the top six units in the line and they are as follows.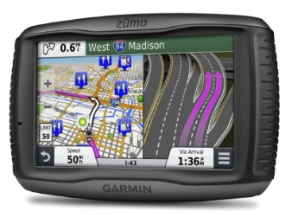 The first in the line to feature a 5-inch sunlight-readable, glove-friendly touch screen display. Quick to respond even while wearing the thickest of gloves with a bright screen that lets you see data during the sunniest of days. The Zumo 590LM also features dual-orientation which allows users to place the display in a horizontal or vertical position.
The Garmin Zumo 590LM has a Smartphone Link application which tells users what to look forward to in terms of traffic avoidance and weather radar, among others. It is durable; it can resist water, sudden fuel spills, ultraviolet rays and the harshest of weather conditions. It is sturdy enough to bring along on adventure and extended rides. The Garmin Zumo 590LM (full review) is the top of the range motorcycle GPS device!
Be able to traverse even the most twisted of all roads by means of its nifty navigation functions. Go off road and the unit will allow you to download and see your targeted area's terrain in 3D, complete with details.
The 390LM was manufactured and marketed as an alternative to the 660LM. It is fast, quick to respond and features an all-new appearance. It is glove-friendly with a 4.3 touchscreen that can withstand harsh glares from the sun and a WQVGA display featuring a backlight in white.
Strong-featured and not only water-resistant, the Garmin Zumo 390LM can also endure fuel spills and ultraviolet rays. It has Bluetooth technology so you can have hands-free phone control and make vocalized directions by means of the headset.
Even though the Tire Pressure Monitor System3 is sold separately, the Zumo 390LM (full review) fits with it without any hassles. Once purchased, the unit also features lifetime map updates for the user.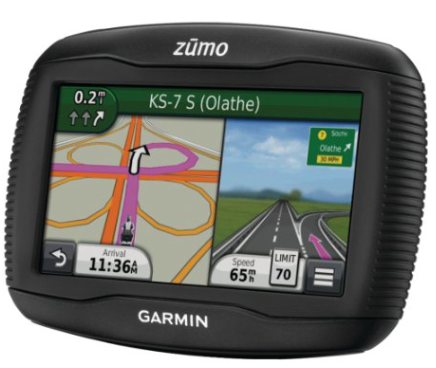 The 350LM is durable and waterproof; designed to provide helpful navigational extras to bikers come rain or shine. The Garmin Zumo 350LM features a sunlight-readable touchscreen display which can endure severe sunshine. The unit also responds fast because of its sensitive, glove-friendly interface.
The Zumo 350LM has Bluetooth technology which enables users to give directions by means of a motorcycle intercom headset (which is sold separately). This Garmin device also features a mount where you can place the GPS. In addition, the Zumo 350LM (full review) has a function called the Service History Log which allows bikers to input the date, kind of maintenance performed and mileage on their rides.
The unit features a glove-friendly interface like the other models which enables faster response and its display has an easy-read set-up which makes it hassle-free for bikers to use. The Garmin Zumo 660LM is preloaded with City Navigator street maps and lots of points of interests which includes places like gas stations, motels and eateries.
It also has a standard digital fuel gauge so riders can check the miles they have used before stocking up on gas. Other than that, the Bluetooth wireless feature makes riders keep in touch during rides; talk on the phone freely even while zooming down the highway.
Strong and durable, the model is water-resistant and can protect itself from harsh weather conditions.
The 665LM is a GPS device which can provide not only navigation, but entertainment as well. It has a GXM 40 XM antenna so you can get XM radio to accommodate you during uneventful rides. A glove-friendly color touchscreen interface makes getting navigational data fast and easy on both rainy and sunny days.
It comes with City Navigator NT street maps and various points of interests so you won't have any hard time looking for a place to stay or a restaurant for those quick lunches. A digital fuel gauge keeps track of the miles you have covered and the model is also a sturdy piece of work which is very resistant to water and even fuel spills. Lastly, Bluetooth technology will keep you in touch with family and friends while traveling.
Sets up rather nicely on your bars and equipped with neat features, the 220 is a great addition to your motorcycle gear.
Like the rest of the excellent Garmin models, the model features a sensitive touch screen display that's glove-friendly and easy to discern. The Garmin Zumo 220 can withstand the day's harshest glare and it's very visible even on cloudy nights.
It comes with City Navigator NT street maps with tons of points of interests that you can decide on while doing stops. The Zumo 220 also has a voice command feature which allows users to steer to the right destination and also shows the speed limits on major roads. The lane assist helps bikers in driving to correct lanes for problematic highway interchanges and it also includes a standard digital fuel gauge so you can check the miles you have covered while traveling.
It can also serve as a functional GPS for your automobile or truck. The unit comes with not only a motorcycle mount, but a car mount as well plus a power cable to connect it. Planning tools will also make your trips easier since you can make customized routes on your computer then upload those routes directly to the 220. It is strong and built for those long, adventurous rides. It comes with a waterproof case which can protect the unit from UV rays, accidental fuel spills and water.
Other than those features, the model comes with its own replaceable battery, an automotive power cable, a USB cable, a dashboard disc, automotive suction cup mount, installation instructions plus a quick-start manual.
Recently Garmin has introduced two new navigators: Garmin Zumo 395LM and the Garmin Zumo 595LM. All these motorcycle GPS devices from the Garmin Zumo line are definitely worth the price you pay. You will get to enjoy the outdoors more knowing that you have a reliable GPS device to help you navigate roads and motorcycle trails.