As an Amazon Associate, we earn from qualifying purchases.
Proving to the world that despite being a new player in the motorcycle intercom market, they indeed deserve to be in it, the UClear HBC100D Plus dual sports headset enables on-the-road crystal clear conversations, make/take calls, and stream music.
However, what makes this new and upcoming brand unique is that fact that they use military-derived technology. The microphone is now inside the speaker unit which then eliminates the need for unnecessary wires making it another innovative product that all motorcycle riders must try.
Specifications
Offering absolute efficiency in small group intercoms between four bikers, the UClear HBC100D Plus motorcycle intercom uses the latest Bluetooth technology to provide clear communication, listen to music, and make phone calls all while the helmet is on.
With over a 1-mile range capacity, this Bluetooth headset also has the capability to isolate the voice and eliminate background noise even in the most extreme environment. To know more about the UClear HBC100D Plus, here are the detailed specifications:
Latest Bluetooth technology
Full duplex intercom system
Boomless microphone
High-quality speakers
Noise suppression
Patented ABF technologies
Firmware upgradable
Multi-point connectivity to multiple devices
Weatherproof
Water and temperature resistant
Operating temperature of -29 degrees Celsius
Voice-activated pick-up
Hands-free operation
Easy Installation
Uses 2 lithium ion batteries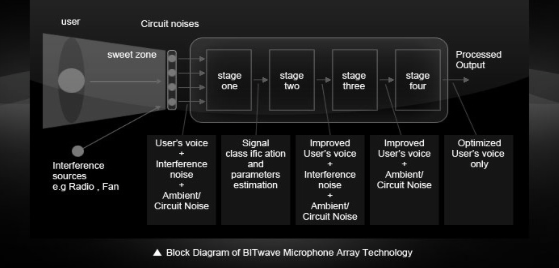 Features
More than just looking great on just about any type of helmet, the motorcycle intercom UClear HBC100D offers more than just a modern and sleek design. It offers a secured way of clear communication either to your passenger or with another rider on a different motorcycle.
In addition to better communication, it has proven to be excellent even for music and smartphone connectivity. See more the wonderful features below:
The wind is one of the most powerful forces that a motorcycle rider comes across while on the road. It is what makes an otherwise ordinary headset worthless as conversations usually start up with something and ends with nothing.
With this HBC100D Plus, UClear used their patented Digital Signal Processing or DSP noise-cancelling algorithm along with adaptive noise suppression and echo cancellation. In addition, there is what UClear prefers to call "sweet spot" which is directed towards the speaker's voice. Hence, the result is enhanced speech with a clear background as wind noise is filtered.
As of writing, UClear claims this HBC100D Plus Bluetooth motorcycle headset to have the capacity to cancel noise and filter wind noise for speed of up to 148 mph. But if you will take note of most customer reviews, they have used this Bluetooth headset in speeds of 180 mph without any problem at all.
Straightforward Installation and Usage
Since there are basically no wires to confuse you with, installation is very straightforward. However, UClear still gives out two installation options. Users can either use a double-sided adhesive to secure this to the lower edge of the helmet or use the clip which slides ultra easily between the helmet's shell and the EPS liner.
Pairing is easy and straightforward as well. The buttons are quite large and raised so you will never miss it should you need to access them while you are on the road. The buttons are for power, call pickup, and volume.
For Your Entertainment Pleasure
Who does not want some form of entertainment while on the road? It helps riders fight boredom and sleepiness. Streaming music through this UClear HBC100D Bluetooth headset from your music players is easy.
Volume and fidelity are amazingly great. If in any case it happens that a call comes in while listening to music, the music automatically lowers down to give way for the call.
Pros
With an almost perfect rating of 4.5 stars, the positive reviews are pretty overwhelming that some say it is already redundant to further add praises for this amazing product. Quality is excellent while capabilities are over the top especially for a "newbie" manufacturer back then in the motorcycle intercom industry. For that, UClear almost immediately gained respect for their high-quality products.
This motorcycle intercom with Bluetooth functionality, UClear HBC100D Plus comes at a very affordable price. It is easy to install and relatively easy to use. The firmware updates are something that you will soon be thankful for and customer service is like the sweetest icing on top of the cake.
Cons
While almost everyone thinks that UClear almost perfectly nailed it with the HBC100D intercom, some think that this better fit full faced or 3/4 helmets rather than half helmets or at the very least get some sort of shield. If that's the case, you might want check out its big-brother, the UClear HBC 200HD.
Final Verdict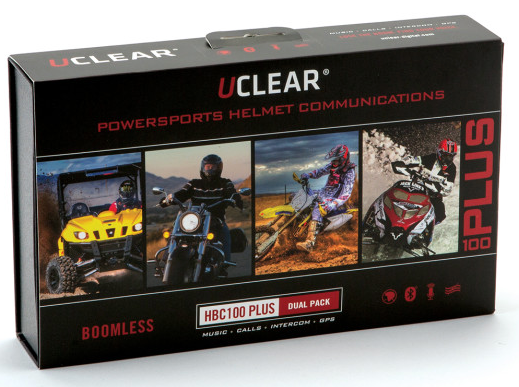 Without a doubt, the UClear HBC100D Plus is in our opinion one of the best-valued and affordable motorcycle intercom available in the market today. It is easy to install, set-up, and use. The technology is simply amazing especially given its very affordable price.