As an Amazon Associate, we earn from qualifying purchases.
A leading name in the motorcycle navigators industry, Garmin has proven its efficiency and durability that can withstand the extremes of environment conditions. The company, being the industry leader continuously evolves its system so well that it not only offers user-friendly features but also highly innovative systems and long sustainability.
As an outdoor motorcycle device, it is expected that this tiny gadget is prone to drops, scratches and breaks. For products made of common plastic materials, such incidences will make the device to easily break. Garmin made sure that their Zumo 390LM can withstand different nature and handling conditions. Making up the 390LM are ABS plastics that are known to be thermo formed.
Specifications
Given the circumstances that motorcycle riders go through, Garmin Zumo 390LM is an all-capacitive handheld GPS navigation device that these users cannot afford not to have. Motorcycle riders will find its 4.3-inch perfect for viewing and using even while on the go.
Users won't have to worry about its resistance capacity as it is built to perform under numerous conditions. Complementing its good looks its 7-hour operating time, thanks to its Lithium-Ion battery pack sealed on its compartment.
Here are more of the specifications of the Zumo 390LM:
Bluetooth for connection to motorcycle intercom or cellphone
1000 waypoints/favorites/locations
Service history log
Preloaded street maps
Lifetime map updates
nüMaps Guarantee
Lane assist with junction display
BaseCamp allows you to save and share routes and points of interest
7 hours battery life
WQVGA color TFT with white backlight display
IPX7 water rating
Route avoidance
Speed limit indicator
Exit services alert
Curvy Roads routing
Compatible with Garmin Tire Pressure Monitor Sensor (sold separately)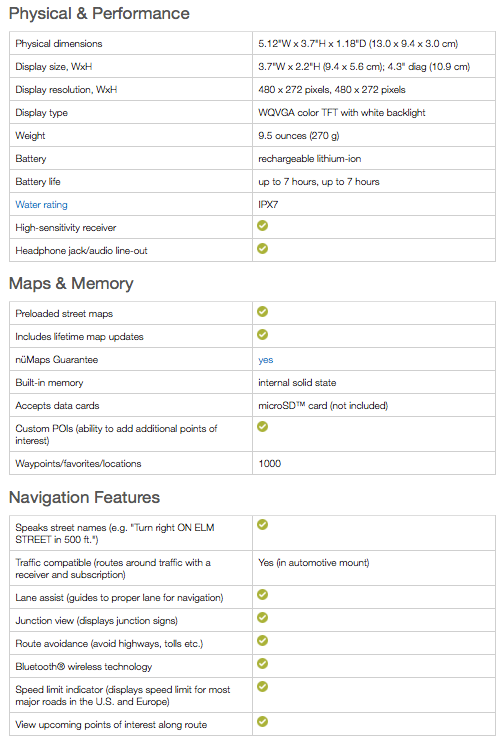 Pros
This small, rugged and all-capacitive motorcycle buddy has almost everything that most motorbike riders would like to get hold of.
Here are some of the good reasons why the Garmin Zumo 390LM motorcycle GPS device is a good choice for an outdoor handy gadget for motorcycle users:
With all the highly innovative functions featured in the new Zumo series, users might find it overwhelming to comprehend and master it. However, the features are well-laid that you will find it easy to navigate through the buttons even without the manual. The Apps are grouped together separately so you won't have to curse over many buttons. It also is glove-friendly and comes with even bigger keys and screen for better visibility and navigation.
The GPS navigation device can stand up to 7 hours on operation. Its battery is non-replaceable and concealed properly that it doesn't interfere with its compact design.
Also an advantage is the 390LM's Bluetooth wireless technology. Using this interface, users get to make and receive calls through their mobile phone and Bluetooth headsets or helmets. There's also this feature where users get to do last-minute changes or do instant stops if you want to buy food or fuel up.
TracBack allows you to drive back to your starting point, using the same route while the Skip interface gives you the freedom to skip your next route easily. Another feature that is specifically of great use during the ride is its Exit Services. This feature shows gas stations restaurants along the way.
You'd find its built-in computer and compass display as very akin to that of those you'd find in cars. It has a digital fuel gauge that keeps you updated on the miles you have gone through before you have to stop before another gas up. It also comes with a speed limit indicator that will help you determine you have to slow down.
One advanced feature of the Zumo 390LM, is its Garmin Adventures where you get to record and share your trips. It also allows you to rate and review your own trips and even download routes from other riders.
Cons
It doesn't have a picture viewer, something that its previous models 660LM and 665LM features. Some find the Bluetooth connectivity as bothersome as it interferes with other features that also makes use of Bluetooth technology.
As to cost is concerned, the Garmin Zumo 390LM comes with a reasonable price. After all, it features a whole lot of convenience.
Final Verdict
If you are looking for a friendly and useful GPS device for your motorcycle, the 390LM is definitely a good choice. It offers a whole lot of useful and convenient features; you would want to have for a navigating device. However, with great product it also comes with a real good price.
Because the GPS system works well with Bluetooth, it does offer a lot of convenience, as you would expect from a high quality hands free device.
The Garmin Tire Pressure Monitor Sensor, although included as its advanced feature is being sold separately, so does its XM radio and MicroSD cards.