As an Amazon Associate, we earn from qualifying purchases.
Sena Technologies received positive reviews when they released the SMH10 motorcycle intercom. With this device, it allows users to listen to their favorite music, voice instructions, and GPS navigations, and even send and receive calls hands-free while on the road, thanks to the Bluetooth connectivity feature that makes it connected to smartphones at ease. The SMH10 surely has all of the desired functionality with a nicely streamlined user interface, which makes the system easier to use in the fast lane.
Specifications
This year, the Sena company has released an even improved version of SMH10 in the form of SMH10D-11. This latest version comes with a universal microphone kit composed of a boom microphone and a wired microphone for more versatile helmet installation. Here are the specs:
12 hours talk time
10 days standby time
Intercom working distance up to 900 meters (980 yards) in open terrain
Pairable with GPS devices (via Bluetooth)
Lithium polymer battery with charging time of 2.5 hours
Profiles: Headset Profile, Hands-Free Profile (HFP), Advanced Audio Distribution Profile (A2DP), Audio Video Remote Control Profile (AVRCP)
Bluetooth 3.0
Built-in SBC Codec
Noise cancellation
Wind noise reduction
Wide volume control
Firmware upgradeable
Features
What makes SMH10D-11 of Sena different from the other headsets in its class? Here is a good list that details the awesome features of this particular model:
Bluetooth 3.0 wireless connectivity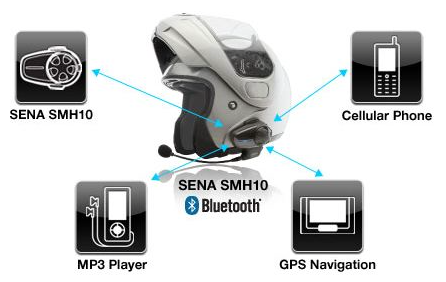 The Sena SMH10D-11 headset can connect easily to Bluetooth devices that support Headset Profile/Hands-free Profile (HSP/HFP) and Advance Audio Distribution Profile (A2DP) technologies. The HSP/HFP features are present in smart phones today, while media streaming devices such as MP3 players and audio dongles support A2DP for sending audio files to Bluetooth-connected headsets.
Individually adjustable volume profiles
Using the Jog Dial feature, you can easily increase or decrease the volume of voice, music, and intercom separately. Previously connected profiles can save different volume levels so you can hear your voice calls loud and clear without suffering from so much volume later when you decide to switch to music streaming shortly after.
Easy installation for helmets
Since it was branded as a motorcycle Bluetooth headset, the SMH10D-11 is made to fit various types of motorcycle helmets. Along with the Universal Microphone Kit, motorists can choose if they will either use the boom microphone or the wired microphone for installation, whatever is more convenient for them to use.
In the event that your headset stops working for unknown reasons, Sena ensured to give the product a two-year warranty every purchase, which is guaranteed to cover any workmanship defects within the given period. Buyers are encouraged to keep the warranty card for future use.
Pros
When you are riding in rough and unfamiliar terrain you would certainly see the use of SMH10D-11 in such sticky situations and make sure that you are in constant communication with your colleagues on the road. Here are the benefits you enjoy with the Sena SMH10D-11 Motorcycle Bluetooth headset/intercom:
Installation and usage is easier, the average setup time can take up around five minutes or less. For full-face setup, the boom microphone has been preferred most by users as it is almost invisible in the naked eye, thanks to the additional Velcro pads.
Device pairing is quicker and easier using the Bluetooth technology from SMH10D-11, and profiles are saved easily for next day usage.
Sure, the headset is not made to be an alternative to your home theater system, but the motorcycle Bluetooth headset is so much raved by users for its excellent audio quality. The sound volume and audio clarity are beyond users' expectations as poor audio quality has been a common complaint with Bluetooth-powered headsets for years. Since it was made as a portable headset on the road, Sena did not absolutely disappoint when it comes to audio technology.
The Jog Dial feature makes volume adjustments easier on the road, and you can specify the different levels for different audio profiles. It became a well-loved feature especially for those who have to stay focused in the fast lane.
Despite the advanced audio technology delivered by the SMH10D-11, the motorcycle Bluetooth headset is surprisingly cheaper than other on-the-road headset models from other brands. Most stores are selling it cheaper than other motorcycle headsets, yet it never fails to deliver excellent audio service and even had easier setup time.
This headset is very portable and you could bring it to any destination you would like to go to. With its smaller size, it also appears to be more manageable compared to other headsets available in the market.
The working distance, according to its technical specifications, is set to 900 meters in open terrain. This distance appears to be a lot more than some other headsets. And 900 meters is quite a distance and most bikers drive within that range anyway.
Cons
Despite the good ratings of SMH10D-11 for its smaller size, many are a few customers complaining about the headset having smaller speakers compared to other Bluetooth headsets.
Despite having the latest version of Bluetooth technology, the motorcycle Bluetooth headset appears to have occasional dropping of paired devices. All of a sudden the music streaming from your device cuts out while you are in the middle of a ride, and you have to stop driving and re-pair the device all over again to keep it working. This is surely considered a hassle especially to motorists who would not like to be disrupted with technical interruptions while on the road.
The biggest issue of the SMH10D-11 so far is its desktop application, which Sena still has some improvement to do. The software is sometimes a bit buggy and it makes firmware upgrades more difficult than the usual. For Mac users, they could not even find the SENA desktop software immediately after installation when they connect the headset in the computer. Even the installation itself is a complicated process with the setup application having to be run as an administrator instead of direct installation with a single click.
Final Verdict
Overall, you will be amazed with the Sena SMH10D-11 motorcycle intercom. This is so far one of the best and surprisingly affordable on-the-road device from the Sena company. You can recommend this product to your motorist friends who are in need of a superb Bluetooth headset with a reliable hands-free technology.