As an Amazon Associate, we earn from qualifying purchases.
The Garmin Zumo 590 is not available anymore, check out the Garmin Zumo 595 instead!
Incorporating all the features that every motorcyclist wants in a GPS navigation device is the Garmin Zumo 590LM that comes with a big 5-inch glove-friendly screen. It has a totally rugged housing that makes it waterproof and has Bluetooth capability. With the ability to show off-road tracks and run TOPO maps, this is definitely a treasure for motorcycle riders.
With the Garmin Zumo 590LM navigation device, entering information is said to be as easy as shifting gears. It is highly intuitive and sensitive that it is like having a partner give you the freedom to choose the route that best interests you.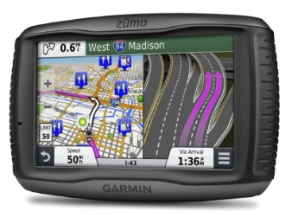 Specifications
Built to withstand the challenges of being in the road and in an open environment, the Zumo 590LM motorcycle GPS by Garmin is specifically designed to combat any type of weather situation. Despite what seemed to be a huge screen size for a motorcycle GPS navigation device, this manages to still look sleek and sophisticated behind the rugged construction.
Determined to provide motorcycling enthusiasts with every little thing that they need in the road during their travels, it comes with a lot of helpful features. Let us get to know the detailed specifications more.
5-inch sunlight readable transflective display
Glove-friendly touchscreen
High sensitivity receiver
Music-Media Player
Traffic and Weather
IPX7 – Resistant to water, fuel, UV rays, and other harsh conditions
Preloaded street maps
Lifetime Map Updates
1000 Waypoints
Lane Assist
Junction View
Route Avoidance
Bluetooth Wireless Technology
Trip Planner & Trip Log
Average Battery Life of 4 hours
Pros
The Garmin Zumo 590LM is not just some navigation tool with a huge screen but it comes with a lot of great features that to make motorcycle riders stay up-to-date on changing road conditions and different routes. Basically, this gives motorcycle riders a nice and clear view of what lies ahead and gives them the freedom to choose which route they want to take.
From road conditions to weather and traffic reports, riders can now have easy access to all of these through this motorcycle GPS navigation device that is right in front of them instead of reaching for their smartphones. In addition, riders also get access through a constant stream of information which makes travelling way more convenient than it used to be.
Know more of the wonderful features of the Garmin Zumo 590LM below: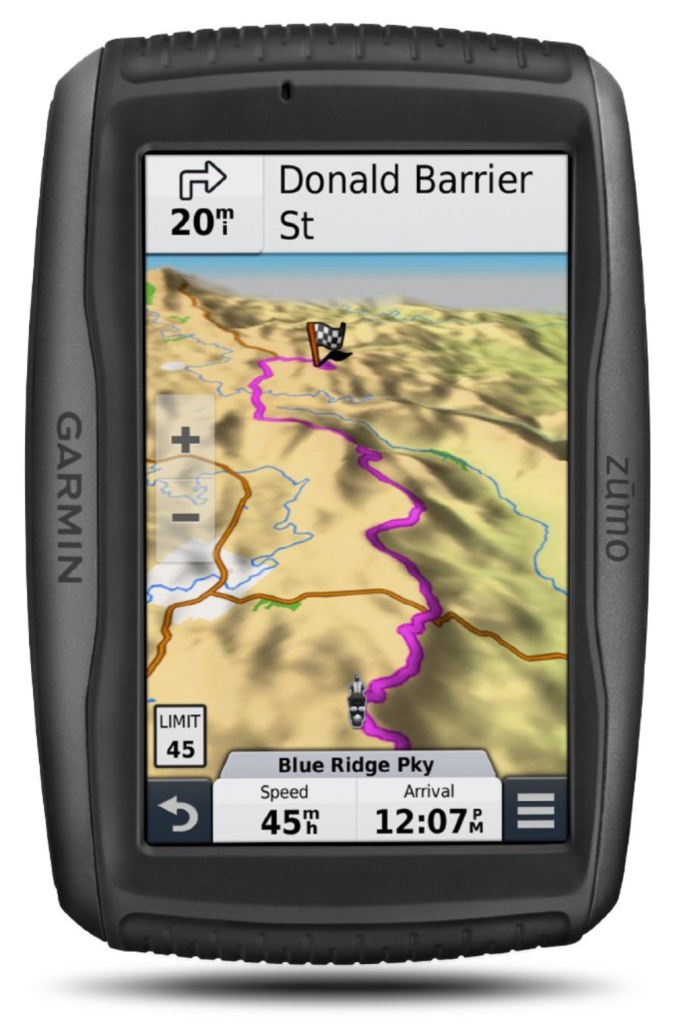 This is one of most important features of any GPS navigation device. Not only does it provide ultimate convenience but safety as well. With the Zumo 590LM, riders can easily talk on the phone without having to remove the gloves and/or helmet for as long as you have paired the smartphone to this device and a Bluetooth-enabled headset. You can also easily connect a motorcycle intercom so you can talk to the other bikers in your group.
With the above, the navigation voice prompt instructions are sent to the Bluetooth-enabled headset so that riders can focus more on the road instead of their eyes running to and from the screen to figure out which way to go. In addition, one can also use the Garmin Real Directions which is another great guide in exploring unfamiliar places.
Riding smart is to know what is ahead way before you get onto your motorcycle. The Garmin Zumo 590LM motorcycle GPS can give you all the weather and traffic information you need through the Smartphone Link app with subscription to their services.
Especially engineered with a rugged design, this navigation tool is built for the road. You would never have to worry about sudden rainfalls or even fuel sprays at the gas station. This Garmin GPS device makes sure it has everything covered so it would not be affected by such situations. To further prove the durability, it is vibration and drop tested successfully.
With the need to be absolutely safe when traveling, users have the option of getting the tire pressure monitor sensors which shows details at the Zumo 590LM screen, therefore making sure your tires are all in perfect condition all the time. You can use the Zumo GPS on the battery or you can hard-wire the GPS to the bike's power.
Whether you need to navigate through complex interchanges or long and winding roads, the Active Lane Guidance feature can help you get through roads, junctions, and interchanges faster.
In addition, riders have the option of choosing Bird's Eye Junction View for a more detailed view of interchanges along the chosen route. The unit comes with a comprehensive owner's manual and quick start manual so you can check all the possibilities and features.
Cons
The Zumo 590LM is one incredibly piece of device that exceeds all expectations. Even customers who were never a fan of Garmin were totally sold upon trying this one out. It works with almost every helmet and headset. However, the one complaint a few customers say was that the music setup takes quite a bit of getting used to make it work.
Final Verdict
With various routing capabilities and extreme durability, there is no way any rider will not have a tremendous ride using this Garmin Zumo 590LM GPS device. It is totally programmable and even comes with a handy Service History Log which basically is a heaven-sent feature especially for busy riders who tends to forget to take notes of important service and maintenance stuff about their motorcycles.